The price of arabica coffee on October 23 was at $2.01/lb in New York (USA), nearing a 7-year peak because supply in Brazil decreased due to drought and fog.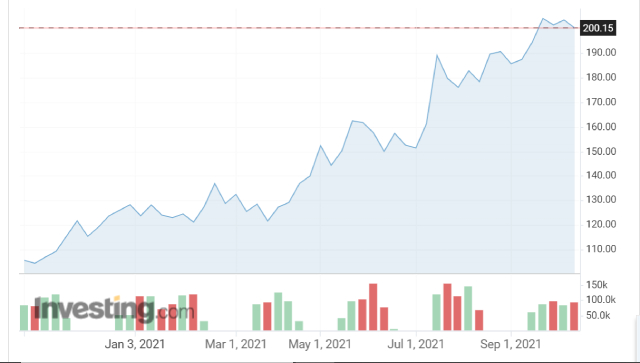 Coffee price movements. Source: Investing.com
Coffee expert from Louis Dreyfus added that there are many reasons to push prices higher. The market is trying to balance back but hasn't done that yet." When supply is short, orders will be canceled. High prices should have boosted shipping activity but that didn't happen with coffee right now because the supply is not available," said Mr. Ben Clarkson, head of coffee division of Louis Dreyfus Group (France).
Nhung Ly, Managing Director of COMCO Trading in Vietnam, said that despite being the world's second largest coffee producer and having a good coffee output this season, domestic exporters are facing difficulties. many difficulties during the peak period of the epidemic.
According to the latest report of the International Coffee Organization (ICO), total global coffee production in the 2020-2021 crop year stands at 169.6 million bags, compared with 169 million bags in the previous crop year. In which, arabica production is 99.3 million bags and robusta is 70.4 million bags.
In terms of consumption, for the 2020-2021 crop year, the ICO forecast that the world will reach 167.3 million bags, up 1.9% from 164.1 million bags in coffee year 2019-2020. With the prospect of further easing of restrictions related to the Covid-19 pandemic and the prospect of world economic recovery, the ICO believes that consumption will continue to increase.
As such, the global surplus is expected to decrease from 4.9 million bags in the 2019-2020 crop year to 2.3 million bags in the 2020-2021 season. This shows that the world supply – demand is increasingly limited and the current uptrend in coffee prices is likely to continue.
Many industry experts predict that coffee production will increase in countries such as Brazil, Colombia, Africa but it will take time.
Partner