Robusta coffee, which is used in instant beverages, has risen to its highest level in more than four years as investors are stocking up. Futures are up nearly 60% in London this year as adverse weather affects crops. Logistical issues, including a shortage of shipping containers, have limited exports from Vietnam.
Nestle SA, the owner of the Nescafe brand, told investors and analysts last week that coffee will be more expensive next year as input costs rise.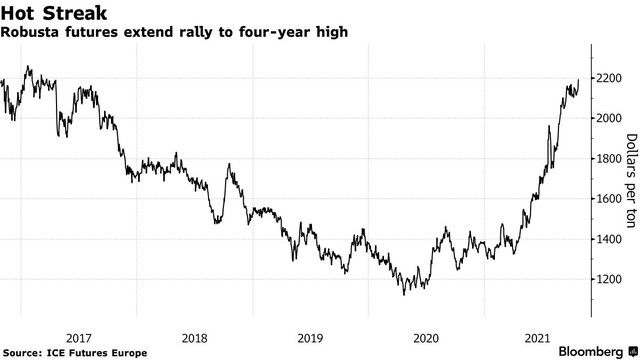 Robusta coffee rose as much as 3.7% in London during Monday's trading session (October 25). Robusta coffee prices for January delivery rose 2.5% to $2,195 a tonne in London, after touching the previous highest level since February 2017. Meanwhile, Arabica coffee – the type favored by coffee chains, increased 2%.
"The high coffee market has resulted in increased margin pressure on short selling," said Charles Branch, head of livestock and agri-commodities at brokerage Britaia Global Markets. The fact that investors buy and sell short often causes product prices to rise higher.
Elsewhere, raw sugar prices rose 1.6%, cocoa futures gained 1.3% for the third day in a row while cotton futures gained 0.3%.
Reference: Bloomberg
By Business and Marketing