According to Tuoi Tre Newspaper
According to the draft resolution on the proposed national land use planning for the period 2021 – 2030, with a vision to 2050 and the 5-year land use plan (2021 – 2025) submitted by the Government, the area of ​​rice cultivation land on The whole country by 2030 will reduce about 348,000 ha, from 3.9 million ha to 3.5 million ha.
The Government also proposes a policy to flexibly change the structure of crops on rice land without changing the physico-chemical properties of the soil, which can be converted back to rice when needed.
Keeping 3.5 million hectares of rice land is too big
Sharing with rice growers who are always poor, low-income and precarious, delegate Nguyen Thanh Phuong (Can Tho) wondered about the fact that too much rice land was retained, and the proposal for conversion was low. Because according to calculations, Vietnam only needs about 1.5 – 1.6 million hectares of rice land, producing about 16 – 20 million tons of rice can ensure enough rice for people.
Keeping 3.5 million hectares of land to produce at least 35 million tons of rice in order to ensure national food security is too large and does not promote economic development or improve people's lives in areas with rice land. as big as the Mekong Delta.
"An area with 12% of the country's area and 19% of the population but carrying nearly 50% of the rice land is not suitable. Thus, in the next 10 years, the Mekong River Delta will still be the main rice production area because the conversion of the area is too small and in this direction, it is difficult for this area to urbanize or develop in the direction of industry quickly," said Mr. Phuong.
Also according to Mr. Phuong, it is necessary to consider reducing the rice area of ​​the Mekong Delta to 1.3 – 1.4 million hectares, instead of 1.67 million hectares in 2030. Thus, the total area of ​​rice land water will be about 3.2 million for the next 10 years is reasonable.
"It's very difficult to get rich from farming, so that people can leave the countryside but not the incense is what we need, and the shallow cup but the incense is a problem to avoid" – Mr. Phuong emphasized.
Delegate Pham Van Hoa (Dong Thap) proposed to clarify that the Red River Delta has a small area of ​​rice land, but it is proposed to reduce 101,000 hectares, while the Mekong River Delta is only allowed to reduce about 88,000 hectares.
"Is it possible that according to the plan, only the Mekong Delta will be responsible for food security for the whole country?", Mr. Hoa asked and said that it is very difficult for the Mekong Delta to form industrial zones. of national stature, it is difficult for investors to return to the region This is for investment.
Given that with the current precarious price of agricultural products, it is difficult for the people of the Mekong Delta to get rich due to the low value of agriculture (especially rice) and the abundant labor force for life, who still have to work as hired laborers, Mr. Hoa proposed to consider for the Mekong Delta to convert rice land to develop urban clusters associated with Ho Chi Minh City, high-tech industrial parks, processing industrial parks, supporting industries…
"When rice land has been converted to another purpose, it will be very difficult to convert rice back. Non-agricultural land is much more economically efficient than rice land, so it is difficult to force farmers to comply with regulations. Therefore. , if transferred, then move it so that farmers can rest assured to change the long-term model, bringing high economic value," – Mr. Hoa proposed.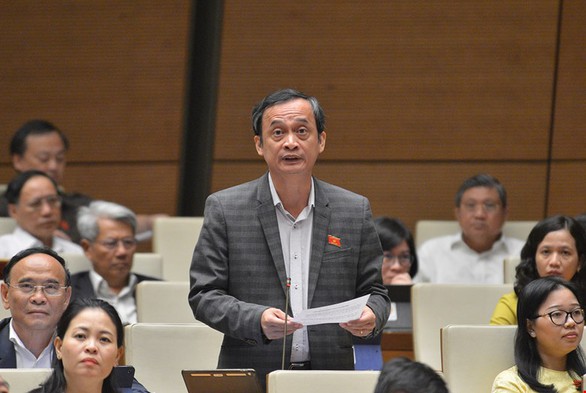 Transfer restrictions rice land to work industrial area
Also at the discussion, delegate Nguyen Thi Minh Trang (Vinh Long) affirmed the fact that the conversion of crops on rice land, using rice land for aquaculture in localities is still happening in the direction of: flexible land use, adapting to climate change and sea level rise.
Modern, large-scale commodity agricultural production is gradually expanding and developing, directly contributing to increasing farmers' incomes, promoting local and regional economic growth.
Therefore, it is proposed that the Government, the natural resources and environment sector and relevant ministries and branches continue to seriously research, analyze and evaluate the pros and cons of the conversion of rice land use purposes in the future. period 2011-2020.
Clearly define the principles and criteria to allow the transformation to orient the allocation of land for specializing in rice cultivation, progressing to approving the rice land use planning to ensure an appropriate ratio, in harmony with the basic objectives. restructuring the economy for the period of 2021-2025 and a vision to 2030″ – Ms. Nguyen Thi Minh Trang said.
Meanwhile, delegate Mai Thi Phuong Hoa (Nam Dinh) said that along with the shrinking rice cultivation area, many unemployed rural workers became self-employed. There is a project to recover rice land and then leave it abandoned or make a few items and then cover it with mats, which is very wasteful while people have no productive land.
That is not to mention that some localities still voluntarily convert rice land to other purposes and have not been strictly handled.
Therefore, it is necessary to clearly define the principles and criteria for allowing the conversion of rice land, which areas need to be converted and which areas need to be kept.
On the other hand, of the area that will be converted to non-agricultural land, up to 48,000 hectares of rice land will be converted to industrial zones. While according to the calculations of scientists, each hectare of agricultural land for urban areas and industrial zones often leads to about 1-2 hectares of adjacent land that is unusable due to water and gas pollution.
"In the long term, for economic development, it is necessary to have a land fund for industrial zones, but it is necessary to minimize the conversion of rice land to industrial park land, because this land cannot be guaranteed to return. growing rice.
I also agree with the opinion of the Economic Committee that for localities with large areas of rice-growing land, the Government should review the implementation of support policies to make more appropriate and effective policies. solutions to increase the value of rice" – Ms. Hoa recommended.