Robusta coffee prices in Friday session (November 3) rose to a 10-year high, while arabica gained nearly 3% due to transport disruptions from major producing countries and a drop in Brazilian output.
Accordingly, robusta coffee for January delivery ended this session up 2.1% to $2,386/ton, in one session touching 2,419, the highest since August 2011. Arabica for March delivery also rose 2.8% to $2.4335/lb, returning to a 10-year high, around $2.48 reached at the end of November.
This is not the most sudden price increase of coffee this year, because the current price is 80% higher than at the beginning of the year.
There are two main reasons for the spike in coffee: congestion in transportation and unusual weather in Brazil – the world's top coffee supplier.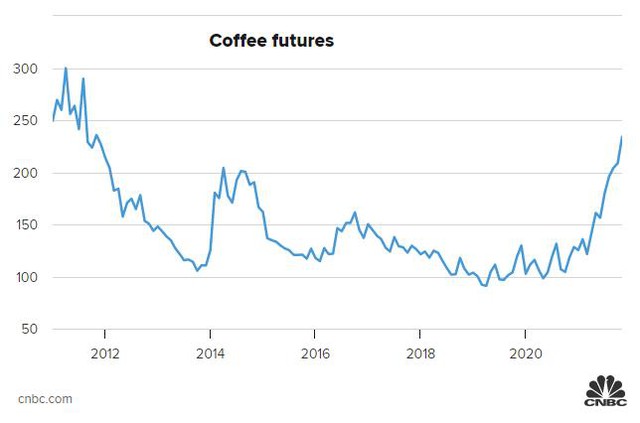 Coffee prices highest in decades.
Logistics congested
Coffee prices continue to be pushed up due to difficulties in shipping around the world and the prospect of reduced output in the world's top coffee producer – Brazil.
Supply chain chaos has been causing problems around the world, including the lack of shipping containers.
Coffee exports from Brazil and Vietnam remain sluggish, causing a supply squeeze in consuming countries, spurring interest in the amount of coffee stocked by the Intercontinental Exchange. land (ICE).
ICE arabica stocks have fallen by more than 260,000 bags in the past 20 days, while robusta stocks have fallen by more than 10,000 tons during the same period.
Brazil's number one coffee exporter, Cooxupe, has just lowered its estimate for coffee exports in 2021 to 4.8 million bags, from 6.5 million bags previously forecast, citing transport links. Congested transportation and crop failure reduce the amount of supply available for export.
Cooxupé President Carlos Augusto Rodrigues de Melo says the company is about to implement an alternative to container shipping for the first time, using 1,000 kg bags to load coffee into dry cargo ships. leave.
"We will ship more than 100,000 bags that way. It's an option to avoid high container prices and a shortage of containers in the market," said Mr. Melo.
Coffee, as well as cocoa, cotton, and refined sugar, are often transported in containers. But the shortage of that type of equipment, coupled with reduced space in container ships, is forcing shippers to look to alternatives such as using bulk carriers.
Mr. Melo said the Company will likely make other shipments using so-called 'big bags'.
Severe weather
Transport barriers are not the only reason for less coffee exports from Brazil. Mr. Melo said the amount of coffee Cooxupé received from coffee growers was reduced by about 2 million bags due to reduced production this year.
Cooxupé expects to export 5.8 million bags of coffee in 2021, lower than the initial estimate of 7.2 million bags.
Meanwhile, the upcoming crop – in 2022 – also shows unfavorable signs when flowering and fruiting are not as expected. Coffee trees in Brazil this year have had to "suffer" a long drought, reducing the ability to develop fruit.
Like many parts of the planet, Brazil's coffee-growing regions have been hit by a prolonged drought that could be the country's worst in nearly a century. Not long after, in July 2021, Brazil suffered its worst frost since 1994, dealing a stronger blow to coffee and other crops.
Such extreme weather threatens coffee supplies and sets off alarm bells in financial markets.
"The extreme weather has created a panic in the market," said Carlos Mera, head of agricultural commodities research at Rabobank. "The weather is very bad for coffee, especially in Brazil," he said.
Coffee price inflation is the latest example of how extreme weather – at least due to the climate crisis – is creating a nightmare for farmers around the globe, making food expensive for consumers. with people around the world.
The Food Price Index of the Food and Agriculture Organization of the United Nations (FAO), which tracks the prices of the most traded food commodities globally, continued to rise in November to its highest level in 10 years. 134.4 points.
Covid does not reduce demand
Against the backdrop of rising coffee prices and the protracted Covid-19 pandemic, demand for coffee remains strong, despite changes due to the pandemic. People are still drinking a lot of coffee, even though consumption has varied during Covid-19 – from offices and cafes to at home.
"We are all very scared," said Jorge Cuevas, coffee business manager for Sustainable Harvest Coffee Importers (USA).
The US National Coffee Association also said demand was not affected by Covid. According to the association: "For many years, the world grew more coffee than we drink, but the US Department of Agriculture forecasts that this year we will consume more coffee than farmers can grow." "We don't expect current conditions to change coffee's status as America's favorite drink."
The price of a cup of coffee may be about to increase
The retail price of coffee is trending up but not spike like many other commodities.
Coffee prices rose 4.7% over the past 12 months, according to the October US consumer price inflation report. That increase was below overall inflation – a 30-year high in October.
That's because Starbucks (SBUX) and other coffee companies buy coffee a lot in advance and have hedging strategies to lock in prices. That allows them to protect their margins and keep prices in check, helping to hedge against volatility in the futures market.
The bad news, however, is that if prices are consistently high, eventually that high price will translate into an inflated cup price. "It's going to happen" and "it's absolutely inevitable that costs will have to be passed on to consumers," Cuevas said.
References: CNN, CNBC