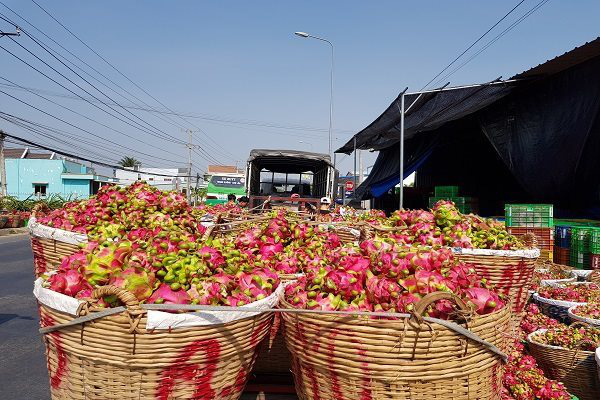 Psychology is concerned that the Covid-19 epidemic could cause the fruit industry to continue falling into a need for rescue. Pictured is a warehouse consuming dragon fruit in Long An. Photo: Trung Chanh
In February last year, when Covid-19 broke out strongly in China, the country took temporary measures to control the epidemic, such as ordering border gates to be closed. This has led Vietnam's fruit industry to a standstill, a series of calls for rescue took place.
However, the situation was later solved when the border gates with Vietnam reopened and the goods were allowed to clear customs, though still subject to very strict disease control.
When the story of goods clearance to China has been resolved, the export of agricultural products to this market gradually returned to normal, the number of patients infected with Covid-19 in Vietnam increased day by day.
This has created anxiety among domestic consumers in general. Besides, there is information about border closures and travel restrictions in Europe and the US.
Since then, making the fruit purchasing and export of fruits in the Mekong Delta is also afraid of purchasing activities.
Mr. Nguyen Minh Hung, Representative of Thuan Phat dragon fruit purchasing warehouse, admitted that if in the past, the warehouse was willing to pay a deposit to buy dragon fruits when they had young fruits, even when they flowered, Currently, the maximum purchase deposit is only about 3 days.
"The warehouses now are also very timid, do not dare to buy far to minimize risks," he explained.
The main reason that dragon fruit purchasing warehouse is afraid, Mr. Hung said, is because the domestic Covid-19 epidemic is tending to boom, while if the State has a new policy to cope, it is very may create new difficulties for businesses.
"For example, as is the case with the authorities quarantining workers," he cited, but said it was only a warehouse fear.
Mr. Nguyen Quoc Trinh, Chairman of Dragon Fruit Association of Long An Province, said that until now, the consumption of dragon fruits to China market has been stable, but has tended to slow down.
"The sale here (China) is slower, so some warehouses demand no more purchasing, but just meeting last night (on the evening of March 20) with some brothers, I have mobilized them to try to collect. bought, "he said and said that the price of dragon fruit bought in the garden (buying buckets) is only 15,000-16,000 VND / kg, down about 10,000-15,000 VND / kg compared to early March 3-2020.
However, according to Trinh, due to the outbreak of the Covid-19 epidemic in the country, while it took about 7-10 days, an order of dragon fruits (from purchasing to warehouse) could be brought to China. National consumption, so the psychology of the warehouse is very afraid of risks.
"The epidemic is increasing every day so everyone is afraid, especially when China consumes a bit slower," he said.
For markets other than China, Thuan Phat's Hung said that when airlines stop exploiting international routes, the consumption is "paralyzed".
"For example, when packing goods to the US or Europe, there used to be a certain amount of consumption before, but now due to Covid-19, the situation of moving by air is also very difficult, so, consuming receptors are also difficult, "he said.
Meanwhile, with Thai jackfruit, today, March 21, purchasing stores in Cai Lay and Cai Be districts of Tien Giang province, some places have temporarily stopped issuing price for traders to buy at Farmer's garden, although about a week away, prices of this product range from 30,000-35,000 VND / kg (type 1).
The hesitant purchasing of fruit fruits due to the fear of Covid-19, may cause the fruit industry to fall into the need to "rescue" as it happened.
According to the Saigon Economic Times